It has been estimated that up to 10 million people in the world suffer corneal blindness. Corneal blindness exists when the rest of the eye functions fully, and the cornea is the only part of the eye needed to restore sight. It may be caused by and accident or from various diseases that damage the front of the eye.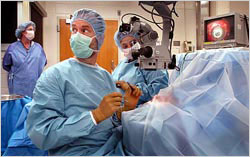 Many people with corneal disease can be helped by regular corneal transplantation using tissue transplanted from human donors, however, in some cases such transplantation is hopeless.
Currently there are only 100,000 corneal transplants performed each year worldwide due to the lack of access to donor tissue, which has been described as an international crisis in public health. Additionally, many of these donor transplants are rejected by the host body or simply do not work.
After more than 200 years of research the artificial cornea was developed. Indianapolis ophthalmologist and founder of the Cornea Research Foundation of America Dr. Francis W. Price, Jr of the Price Vision Group successfully performed the first artificial cornea transplant, the AlphaCor, in Indiana in 2004.
The surgeons of Price Vision Group now use the Boston K-Pro artificial cornea. It is the most widely used artificial cornea or keratoprosthesis. The K-Pro is a treatment option for corneal disease not amendable to standard penetrating keratoplasty (PKP) or corneal transplant. Continued advances in design and superior postoperative care have resulted in improved outcomes.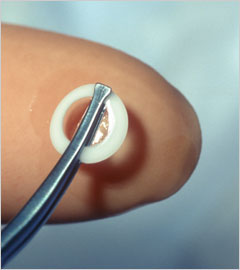 The Boston K-Pro keratoprosthesis is made of medical-grade polymethylmethacrylate (PMMA) the same material that is used in some contact lenses and intraocular lens implants. The device snaps together with corneal graft tissue sandwiched in-between and is then sutured in to replace the cloudy cornea. A soft contact lens is applied following surgery as a bandage and is required full time following surgery-for life.