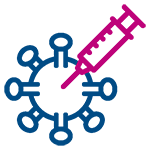 COVID vaccinations should be treated in a specific fashion.
Resume the Pred-Forte or Fluorometholone (FML) 4 times/day in the grafted eye for 2 days before and for 2 weeks following each of the vaccinations.
After these 2 weeks, you will resume the normal dosage that you were on prior to this change
If you have a history of viral or other infectious eye diseases that prompted your initial transplant please call prior to your shot.